Faculty Profiles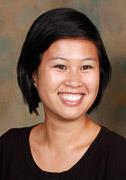 Mai-Khanh Bui-Duy, MD
M_MED-CORE-DGIM
Attending Physician
1701 Divisadero
San Francisco, CA 94115
415-514-8673
Mai-khanh.Bui-duy@ucsf.edu


Mai-Khanh Bui-Duy, MD is Assistant Clinical Professor in the Division of General Internal Medicine at UCSF and currently practices at both the General Medicine Clinic at 1701 Divisadero Street as well as at the Screening and Acute Care Clinic. She completed her internal medicine residency at UCSF in the UC Primary Care program, participating in the Health Systems and Leadership Area of Distinction.


She is particularly interested in studying ways to improve chronic disease management & interdisciplinary care and education. She is also interested in transitions from acute/post-acute settings back to primary care. She is on the Quality Improvement committee within the Division of General Internal Medicine and serves as the ACO physician liaison for the Division. She is also the outpatient co-champion for UCSF within the UC Tobacco Cessation Network.
Education and Training

| Location | Degree or Training | Specialty | Date |
| --- | --- | --- | --- |
| Mount Sinai | M.D. | School of Medicine | 2010 |
Interests
chronic disease management, interdisciplinary care, interdisciplinary education, primary care transformation, quality improvement, resident well being, smoking cessation, transitions in care
Awards and Honors
| | |
| --- | --- |
| 2012 | UCSF Medical Center Quality Celebration Award: Physician Category, UCSF Medical Center, 2012-2013 |
Recent Articles (1)
Select data provided by UCSF Profiles, powered by CTSI at UCSF. Learn more about the data source.